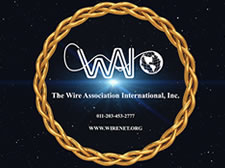 WAI members rank networking as the #1 reason to join
Discover WAI. Members receive:
• Networking and volunteer opportunities
• Publications | Industry news
• Free webinars | Educational resources
• Discounts on all WAI products, services, and event registrations
Networking and volunteer opportunities
• Reconnect with colleagues and meet new peers
• Join a WAI committee to help guide association activities
• Join a regional chapter to organize local activities
• Find global wire and cable manufacturers and suppliers through the online directory
• Become a mentor to give back to your industry or find a mentor to receive career guidance from seasoned professionals
Publications
• The annual Wire Journal International Reference Guide
• The industry's leading monthly Wire Journal International magazine
• HardWIRED an educattional e-newsletter with instructional videos
Webinars and resources
• Attend an unlimited number of live online presentations free
• Access the complete webinar archive
Discounts
• Save on registration fees for conferences, courses, tours, and other events
• Save on WAI Store products
WAI helps members:
Meet peers
• WAI chapter affiliation
• WAI education: conferences, educational webinars
• WAI Forums
• WAI committee participation
• WAI LinkedIn and Facebook pages
• WAI social events: receptions, awards ceremonies, golf outings
Stay informed and competitive
• Conferences and courses
• Free live and archived webinars
• Exhibitions: Interwire and WAI Operations Summit & Wire Expo
• Technical article research
• Publications: Wire Journal International, WJI Reference Guide, HardWIRED
Stay involved as volunteers
• WAI committees
• Program moderators
• Conference speakers
• Technical article authors or reviewers
• Task force champions
• Webinar instructors
Advance careers
• Job center
• Mentor/Mentee
• Awards
Membership Dues
• One year: $130.00
• Two years: $240.00
• Three years: $350.00
Meet your peers. Achieve your goals. Join WAI today.
Questions: Contact WAI's Membership Department, This email address is being protected from spambots. You need JavaScript enabled to view it. or 203-453-2777