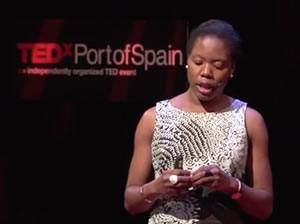 Vernelle Noel
WAI Member since 2016
"[I joined WAI] because of my research into wire-bending, I believe it is important that I know the world of wire and almost everything there is to know about it, from tools, to techniques, materials, to processes." - Vernelle Noel
Q: What's your current position? A: I am a research scientist, computational designer and architect who is a Ph.D. candidate in Design Computing at Penn State University.
Q: What drives you in your current path? A: I love being a knowledge and design detective. I get to learn, design and share knowledge with others. After graduating from MIT, I co-taught courses in Design Computation, Digital Design & Fabrication at the Singapore University of Technology & Design (SUTD).
Q: What do you do now? A: My current Ph.D. work investigates craft, computational making and technologies in design practices. I seek to transform how we design, make and develop technologies for applications in craft, architecture, engineering, art and manufacturing. That includes wire-bending.
Q: How did you come to be interested in wire? A: My MIT thesis, "Trinidad Carnival: improving design through computation and digital technology," focused on the elaborate costumes at this iconic event. Many of those costumes have a wire frame. I proposed the development of a digital tool from the encoding of the visual design features in wire bending to further support this art form. This stems from my passion for understanding and fostering the blend of craft, computational making and technology in cultural practices, which led to my being the founder, creator, and editor of Architecture Caribbean, an online platform that showcased and promoted design in and by Caribbean nationals.