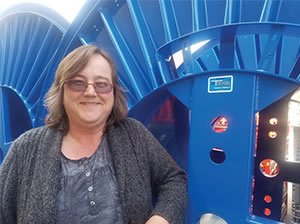 Helenna Freeman
WAI Member since 2017
"I wanted to see what the needs are, where they are needed and what's happening in this industry. That was easy: join WAI." - Helenna Freeman
Q: What does your company do? A: GEC is a manufacturing company that fabricates Toroidal® and custom reels as well as other miscellaneous parts used in all other industries.
Q: What is your role there? A: For less than a year now I have been the president. I'm the lady in the corner office who works with a great group of people who want to make progress in manufacturing in our area.
Q: What do you like best about your position? A: Being able to effect change, and watching the impact it has for employees and in the products we produce is greatly satisfying. It's exciting to influence change in all the departments that I once was a co-worker of. I get to plan and execute new methods and ways of thinking.
Q: How has your industry most changed? A: Customer requirements. They want product fast, they want it very competitively priced and they want quality. We are an ISO company for a reason: quality comes first. In yesteryear, the focus was fit and function. Now, it is critical that products are made to specs that ensure that parts will perform and last.
Q: How does your company remain competitive? A: Made in the USA comes with a price. We can buy cheap or scrap steel, but we don't. We do volume buying, have further streamlined our processes and we keep current with technology that makes work flow more efficient. The combination of automation and skilled labor efficiently working together keeps us competitive.