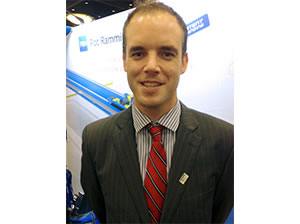 Florent Gougerot
WAI Member since 2015
"I made a presentation at the Global Continuous Casting Forum in Atlanta...I must say that I had many good discussions and opportunities there, and I certainly want to keep in contact with the "wire world!" - Florent Gougerot
Q: What does your company do? A: STAS Inc. is a high-tech equipment supplier located in Chicoutimi, Quebec. We specialize in the aluminum industry, especially treatment of molten aluminum.
Q: What is your role there? A: As marketing manager, my role is to promote equipment and services worldwide and to develop new markets.
Q: What do you like best about your position? A: I really enjoy meeting people, learning about them and the company they work for, discussing the problems they are facing at work and how we can help them.
Q: How does your company remain competitive? A: We have been working on two fronts. First of all, we wanted to continue to develop our technologies in order to provide the best possible solutions to our customers, which has become possible thanks to a product management approach. Secondly, we have managed to control our costs internally in order to keep our prices competitive. In recent years, we have put in place a very good project management system that helps us not only to better track our projects but also helps our sales department to predict the availability of our staff for projects or in-plant services.